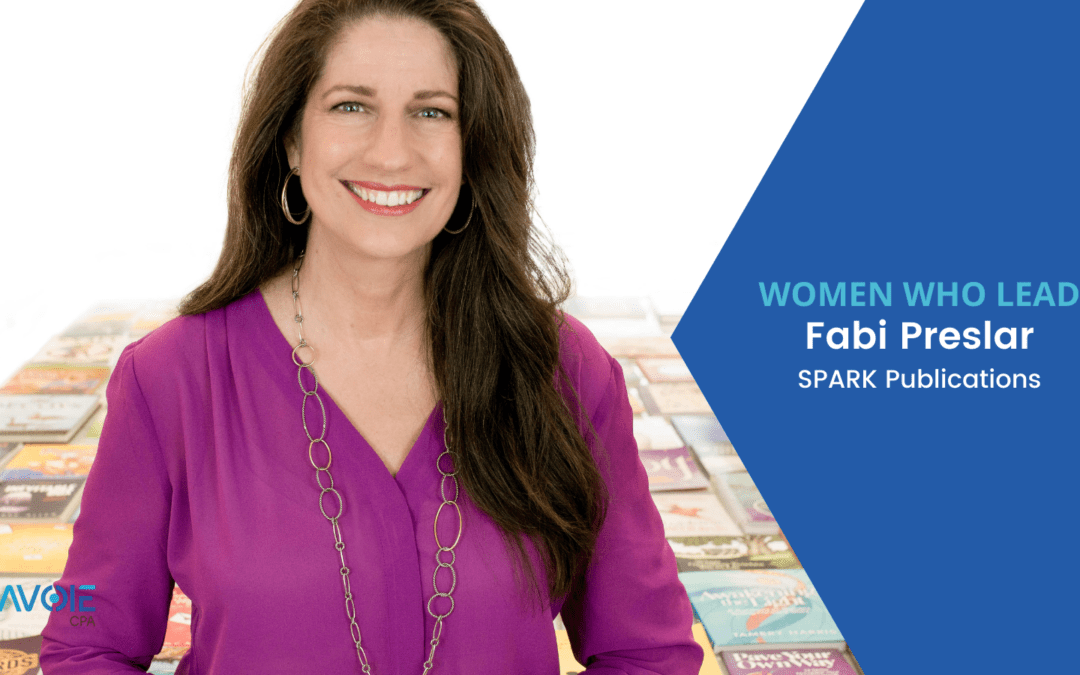 Each #WomenWhoLead feature will be showcased on a wall mural in South End Charlotte. If you know a woman leader who you want to feature on the wall, please click the button to nominate her.
Fabi Preslar (we've learned is pronounced "Faybee") and her entrepreneurial life fueled by SPARK Publications have been one of perseverance and thriving through opportunities to get to a sparklier creative situation on the other side.
Although it seems like she lost a great deal as a teen, courageously leaping into her own new life eventually brought about a dream life of creatively working with her family, a great company serving high-profile business owners, and receiving national recognition. As a firm, SPARK Publications has won over 250 industry awards celebrating their marketing design and publishing work for clients.
Although little of this came easy, Fabi has been awarded an international 2021 Gold Stevie Award for Chief Happiness Officer of the Year, a national 2020 FOLIO magazine: Top Women in Media, was inducted into the 2019 North Carolina Women Business Owners Hall of Fame, and the 2018 First-Generation Family Business of the Year by the Charlotte Business Journal, and as Woman Business Owner of the Year by NAWBO Charlotte in 2017. 
We had a quick conversation with Fabi about her entrepreneurial life, providing her such a deep opportunity for personal growth while creating a successful business publishing for other entrepreneurial rock stars.
You are the founder of SPARK Publications. Tell us how you got to where you are now.
My business ownership story started several generations ago with my great grandfather and numerous other family entrepreneurial attempts. Each one ended with great detriment to the livelihood of our family. My parents immigrated from France to start their young married life. My parents, sister and I lived in many places including Canada, Bahamas, Paris, as well as various places along the East Coast in the United States. The summer before my senior year of high school, the restaurant my parents launched in Columbia, South Carolina, closed, which led us to lose our home and the farm we lived on. A family friend in North Carolina opened up her home to take in my family. Once my parents got back on their feet and started their new lives, it was time for me to start my own life. At seventeen, I moved to Charlotte without family support, no car, no money. I knew no one. I worked three jobs to put myself through Central Piedmont Community College to become a graphic designer. From there, I slowly built a life of creativity, love, and business as I worked as an art-director, general manager, and designer for various firms. While working at the Charlotte Observer, I met and married my husband, Larry, less than six months from when we met. At twenty-two, I gave birth to our daughter, started my first business, and then merged that graphic design business with a small printing company to form a corporate newsletter publishing company. That ended after six years with some really hard business lessons learned.
Today I am the founder and president of SPARK Publications, a twenty-four-year-old national award-winning, publishing firm specializing in custom magazines for trades and association and independently published non-fiction books to help grow businesses, brands, and platforms. Every day I get to work with my husband, daughter, a great team of SPARKlers, and a client base beyond my wildest dreams.
What has surprised you about owning your own business?
My biggest overarching surprises are the depth of what I've learned about myself and the amazing opportunities that come my way each year. I launched SPARK Publications with several goals: 1) to spend time with my family (everyone was spending more time with my husband and daughter than I was). I hadn't placed the proper focus on my role as wife and mother, and I really wanted to. The first six years were home-based. 2) I'd gathered so much knowledge and applied skills as a designer, pre-press tech, the many steps in publishing and customer service, I couldn't find a position that encompassed all the skills and creativity I had to offer. 3) I had lived life so fast from the age of seventeen that it was time for me to emotionally and spiritually get a better perspective, grow up, and truly discover who I am and how to best live my purpose (be careful what you ask for!).
Ten years into this business journey, my husband joined and at twelve years, my daughter became part of my firm's full-time team. This enabled us, along with my other SPARKlers, to continue to grow ideas from my heart along with their exceptional talent. I have deep gratitude for these beautiful surprises. Owning a business brings constant surprises. I'm learning to celebrate the fun ones and more easily work through the tougher ones.
What's something new you're learning right now?
I love the impact my team makes with our magazine and book clients. Lately, the requests for me to become an entrepreneurial speaker, guide, and consultant are growing. I'm getting to vulnerably and authentically help business owners get clarity to love their life and businesses even more. I'm doing more speaking and workshops around the topics of "Fabulous F WordsTM to Fuel Your Future Story" and the fun concept of "Flailing ForwardTM". I didn't think I'd love it as much as I do. My time is currently limited to serve those increasing clients and opportunities while growing and managing SPARK Publications and SPARK Digital Design®. A third venture has me learning to get much better at scheduling my energy and time.
What advice would you give your younger self?
Although most who meet me for the first time wouldn't know, I'm a deep introvert and still struggle with a lack of confidence. So, I'd let baby girl Fabi know that everything she experiences is going to be of value in a future situation. Everything gets you ready for the next thing and the next thing will be less hard because of the previous hardships and lessons. Be confident that you're always on the right path for the next great lesson and experience. And have a bit more fun—hard times and challenges are a way of life and so are the good times.
Who are your mentors?
Joan Zimmerman, Dee Dixon, and Sara Blakely (from afar) are some of my business mentors. I was recently selected for a page feature in Entrepreneur magazine. When the printed issue arrived, and Sara Blakely was on the cover and our features were just a few pages apart…that was an energetic nerdy dance celebration moment for me.
Dee and Joan have always been there to cheer me on and provide that needed real-world kick and kindness just when I needed it most. Even with a great family, having mentors that can call you out and cheer you on is priceless. I'm paying it forward now with several amazing women in business.
How can you become a good leader?
I think to be a good leader we have to first be a good student of life. We need to be willing to take the time to be the best we can be as a person and take the courage to honor, and at times, rebuild the foundations we previously built that no longer serve us.