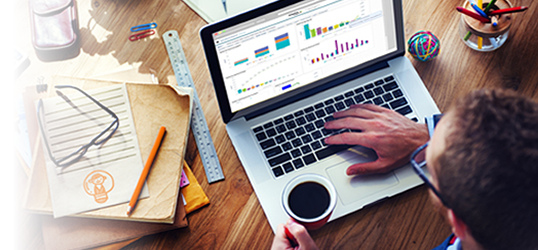 Congratulations, you're outgrowing QuickBooks
When your business grows, you should celebrate—not suffer. Try telling that to the finance team that's still trying to make QuickBooks work. It's just too basic to handle growing organizations with evolving needs. So your team might be compensating with inefficient workarounds and spreadsheets. And you may realize you can't rely on your basic reports to be of any strategic use. That's a lot to pay for a "low cost" solution. Find out what makes Intacct the top solution for QuickBooks graduates.
Make the "day to day" easier
If your team is spending hours on spreadsheets, your entry-level accounting solution isn't doing you any favors. Ditch the extra data entry with Intacct's feature-rich cloud accounting software solution. Automate multi-entity close and reporting, revenue recognition, project accounting, and more. Save team time today and be prepared for tomorrow with a solution that can handle almost any accounting process you can imagine.
Flex your reporting muscle
Intacct was uniquely designed to give you endless reporting flexibility. Unlike QuickBooks, Intacct enables you to track both financial and operational data in real time. You can easily drill from top-level results down to the performance for a specific entity or location, then down to individual transactions. And you can access your reports from any web browser, on any device. Integrate without IT, and other cloud benefits Organizations that are outgrowing QuickBooks can expect high ROI when switching to cloud accounting. You don't have to worry about system availability and security—that comes guaranteed. Plus, it's instantly easier to connect with other cloud-based best-in-class business systems, like Salesforce CRM, so you can share data between systems without human data entry or errors.
Key outcomes:
Improve productivity by eliminating manual processes and spreadsheets
Get instant visibility into business performance, anytime, anywhere
Integrate with your other applications to eliminate data re-entry and information silos
Save money, increase security, and reduce IT headaches